dear visitor,
if you are looking for a guide in and for the city of cologne, congratulations: you have found one. welcome to my homepage.
my name is markus graf, born in cologne in 1976, raised here, educated here and still living here – cannot be the worst place on earth, can it? i am in the lucky position to have a job that is also my profession. cologne is my hobby and i made my hobby my job in 2006. since then i have accompanied people on their way to get to know cologne, its 2000-year history and the current questions around the development of the city. though it is an old city cologne is still growing, developing and offers exciting opportunities.
it is important to me not to fill your head with dates and facts but to rather leave you with various impressions of this town. cologne is famous for its atmosphere and i did a good job if people remember that after their visit.
generally i am offering all my topics in german and in english. if you have got any special requests please do not hesitate to contact me.
since february 2016 i am officially certified by the german national tourist guide association. finally i have got something to be proud of and to put on my shelf.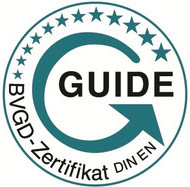 yours markus graf
ps – as there were some requests on the price information in english: i charge 90€ (incl. 19% vat) per hour guided tour in english excluding possible entrance or admission fees (1,5h is 135€, 2h is 170€, additional 30 minutes 35€).
the maximum size of a group should not be higher than 25 people.
just sent me an e-mail to ask for more information.